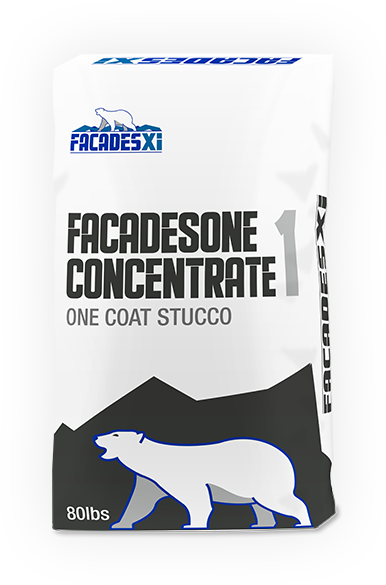 FACADESXi FACADESONE CONCENTRATE
DESCRIPTION AND USAGE
FacadesOne Concentrate is a pre-mixed stucco base coat consisting of portland cement, fibers, and additives that can be applied in One Coat at 3⁄8″ thick; designed specifically for the FACADESXi Stucco Wall Systems. When mixed on site with sand and water, this product combines the longlife cycle, durability and traditional aesthetics of three coat stucco with lower labor costs and shorter scheduling.
Can be applied as ASTM C926 Three coat at 3⁄4″
Factory prepared stucco base for consistent field quality control
Impact and puncture resistant
Reduced Labor at 3⁄8″
Shorter construction schedule
Lower Cladding Weight for decreased structural requirements
FACADESONE Stucco Assemblies: 3⁄8″ thick Stucco Base Coat.
Three Coat Stucco Assemblies: Traditional ¾" scratch & brown stucco base complying with ASTM C926
Masonry Veneer Assemblies: Masonry Veneer Mortar bed when mixed with Xi-Admix & Bonding Agent
FACADESXi Stucco Assembly Substrates/Sheathings:


With code compliant lath, water resistive barrier

ASTM C1177 glass mat faced sheathing
ASTM C79/C1396 exterior gypsum sheathing
ASTM C1325 Type A Exterior cement-board
Exposure I or exterior plywood sheathing (grade C-D or better)
Exposure I OSB,
Poured concrete/unit masonry/brick
Open Framing (3⁄8″ thickness Only)
Continuous Insulation

Direct Application

Concrete
Concrete masonry (CMU)
Poured concrete
Brick

Non-combustible Assemblies & Fire resistant assemblies: Refer to FacadesOne UES Evaluation Report ER 687.
80 lb (36 kg) Bags
Sand quantity will affect coverage, but the approximate coverage per thickness per bag will be as follows:
3⁄8″ (9.5 mm) = 75-90 ft² (7-8.4 m²)
1⁄2″ (12.7 mm) = 60-72 ft² (5.6-6.7 m²)
3⁄4″ (19.0 mm) = 37-45 ft² (3.5-4.2 m²
Coverages are approximate and will vary depending on application methods and environmental/surface conditions.