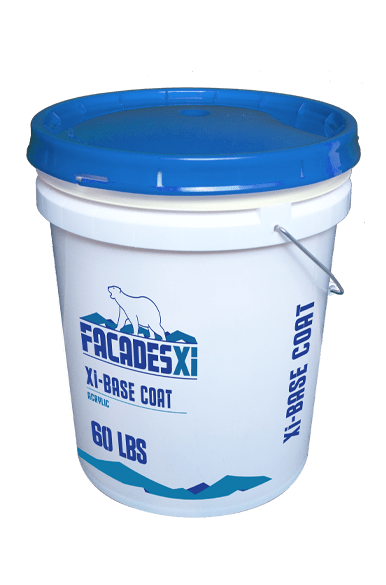 FACADESXi Xi-ACRYLIC BASE COAT
DESCRIPTION AND USAGE
Xi-Acrylic Base Coat is a 100% acrylic modified adhesive and base coat designed specifically for the FACADESXi Wall Systems. When mixed in a 1 to 1 ratio with cement this product adheres insulation board to the substrate, embeds reinforcing mesh and skim coats surfaces with excellent workability.
Wet Polymer gives excellent adhesion
Mildew Resistant
Vapor Permeable
Smooth consistency for easy application
FACADESXi EIF Systems Insulation Board Adhesive to approved substrates


Substrates allowed with or without Watershield Xi

ASTM C1177 type sheathings:
DensGlass® sheathing
GlasRoc® sheathing
Weather Defense® sheathing
eXP® sheathing
ASTM C1325 Type A Exterior cement-board: PermaBase
Poured concrete/unit masonry/brick

Substrates allowed when Coated with FACADESXi Watershield

Untreated Exposure I or exterior plywood sheathing (grade C-D or better)
Untreated Exposure I OSB
Gypsum sheathing (ASTM C79/ ASTM C1396)
FACADESXi EIF Systems, FACADESXi Stucco, Direct Applied and Cement Board Systems: Base coat to embed FACADESXi Reinforcing Meshes.
Xi-Acrylic Base Coat can also be used as a skim coat to produce a smooth level surface on interior or exterior clean masonry or concrete or unglazed brick.
60 lb (27.2 kg) Pail
FACADESXi EIFS
Adhesive and Base coat = 120-140 ft² (11.1-13 m²) per pail (adhering insulation to substrates and embedding Xi-Mesh).
Adhesive
1/2″ x 1/2″ x 1-1/2″ (13 mm x 13 mm x 38 mm) = 230-250 ft² (21.3-10=23.2 m²)
5⁄8″x 5⁄8″ x 5⁄8″ (16mm x 16 mm x 16 mm) = 180 ft² (16.7 m²)
Base Coat
Embedding Xi-Mesh = 200-230 ft² (18.6-21.4 m²)
Embedding Bear Mat 20/Xi-Mesh: Ultra High Impact = 140-160 ft²
(13.0-14.9 m²)
Skim Coat
230-260 ft² (21.3-24.1 m²)
Coverages are approximate and will vary depending on application methods and environmental/surface conditions.