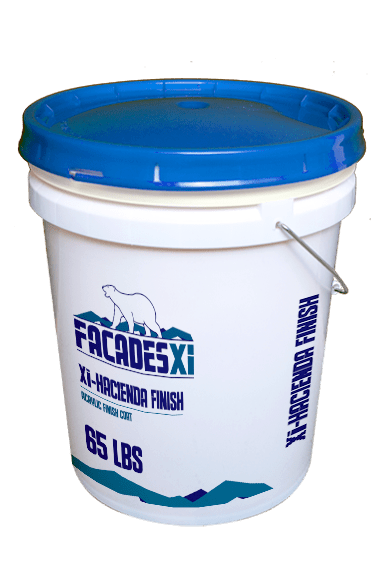 FACADESXi XI-HACIENDA ACRYLIC FINISH
DESCRIPTION AND USAGE
Xi-Hacienda Acrylic Finish Coat is a 100% Acrylic resin based, factory mixed finish available in a variety of standard and custom colors. May be applied to portland cement plaster, brick, cmu, masonry, interior drywall, or other surfaces with the approval of FACADESXi. Available in different textures, standard colors and custom colors.
Wet Polymer gives excellent adhesion
Mildew Resistant
Vapor Permeable
Smooth consistency for easy application
FACADESXi Stucco, Direct Applied and Cement Board Systems
Direct to CMU/Concrete, Stucco and Brick
Interior Drywall
Other substrates per FACADESXi
THIS PRODUCT MAY NOT BE USED WITH EIFS
Xi-Smooth
Xi-Fine Sand
Xi-Medium Sand
Coverages are approximate and will vary depending on application methods and environmental/surface conditions.