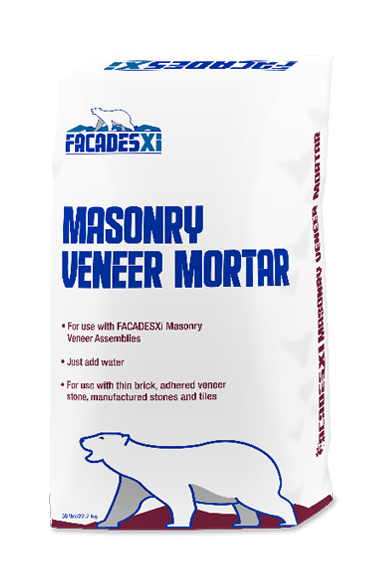 FACADESXi Xi-MASONRY VANEER MORTAR
DESCRIPTION AND USAGE
FACADESXi-Masonry Veneer Mortar is a dry polymer modified cementitious mortar complying with ANSI 118.15 / ANSI 118.4 and designed specifically for the FACADESXi-Masonry Veneer Wall Systems. When mixed on site with water, this product adheres thin stone, manufactured stone, brick and tile to approved substrates with increased bond strength, sag resistance, freeze thaw resistance when compared to standard Mortars.
Non-Sagging
Dry, bagged product requiring only water
Exceeds industry and code standards
Complies with ANSI 118.15
Veneer Mortar for:

FXI Masonry Veneer Assembly
FXI Masonry Veneer Cement Board Assembly
FXI Masonry Veneer WaterShield Assembly
Xterior Insulation Masonry Veneer System

Allowable Substrates:

FacadesOne One Coat Stucco
FacadesThree Scratch & Brown
Mortar Bed per Building Code
ASTM C1325 Type A Exterior Cement Board
Poured concrete/Unit Masonry/Brick
For Interior Installation Substrates Contact FXI Technical Services
Veneer stone, brick, tile and other veneers must comply with the limits of the building code and applicable specifications including limited size and weight.
50 lb Bags (22.6 kg)
Approximate coverage based on the method of application:
Notched Trowels
1⁄4″ x 3⁄8″ (6 mm x 9 mm) : 50 – 60 ft² (4.6 – 5.6 m²)
1⁄2″ x 1⁄2″ (12 mm x 12 mm): 40 – 45 ft² (3.7 – 4.2 m² )
MVM Method (wall and veneer): 25 – 30 ft² (2.3 – 2.8 m²)
Coverages are approximate and will vary depending on application methods and environmental/surface conditions.