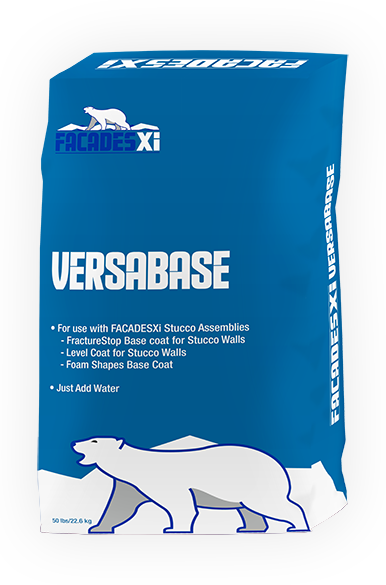 VERSABASE
DESCRIPTION AND USAGE
Xi-VersaBase is a dry latex modified cementitious base coat designed specifically for the FACADESXi Stucco Wall Systems. When mixed on site with water, this product 1) embeds mesh for the FractureStop Layer, 2) is used as the base coat for foam shapes and decorative trim and 3) can be used as a leveling coat over approved substrates.
Multiple uses within one product
Mixed with only water in the field
Polymer modified for flexibility and strength
Permeable
Wet Polymer gives excellent adhesion
Mildew Resistant
Vapor Permeable
Smooth consistency for easy application
FACADESXi Stucco Systems
Base Coat Layer in the FractureStop 5 Option
Base Coat for EPS Foam Shapes, Decorative Trim
Leveling Coat for the following Substrates*
Stucco Base Coat
Concrete
Concrete masonry (CMU)
Poured concrete
Brick
*Unpainted and clean
Not for Use with Xi-EIFS Systems
50 lb (27.6 kg) Bags
Base coat
80-90 ft² (7.4-8.4 m²) per Bag
Adhesive
5⁄8″ x 5⁄8″ x 5⁄8″ (16mm x 16 mm x 16 mm) = 70-85 ft² (6.5-7.9 m²) per Bag
Level Coat at approximately 1⁄8″ thick
UltraFine & Fine: 60-70 ft² (5.6-6.5 m²) per bag
Medium & Coarse: 40-60 ft² (3.7-6.5 m²) per bag
Coverages are approximate and will vary depending on application methods and environmental/surface conditions.