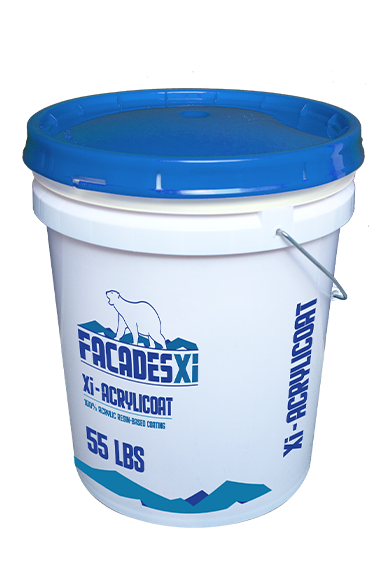 FACADESXi Xi-ACRYLI COAT
DESCRIPTION AND USAGE
Facades Xi-Acryli Coat is a high performance 100% Acrylic Coating. It provides dirt and dust pick up resistance and comes in a variety of standard and custom colors. May be applied to new or previously coated surfaces such as portland cement plaster, brick, cmu, masonry, painted or other surfaces with the approval of FacadesXi.
100% Acrylic polymer, water based.
Low VOC
Vapor Permeable
Dirt Pick Up Resistant
Acceptable Substrates:
Stucco
CMU
Concrete
EIFS
Brick
Other substrates per FACDESXi
5 Gallon Pail
The estimated coverage area per pail is based on the condition of the substrate and method of application.
One coat:
900 – 1200 ft² @ 5-6 wet mils
Two coats:
Applications over concrete and masonry require two coats. Coverages are approximate and will vary depending on application methods and environmental/surface conditions.